Butternut squash soup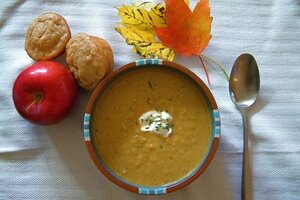 Kitchen Report
There is something about October that says slow down: two-hour naps should follow two-hour walks in the arboretum; spending a few hours to finish a book should pass without guilt. Think Dave Brubeck's "Indian Summer." This is about the pace that October should feel – kind of relaxed and bouncy, lightly mellow, and warm. The other day I rearranged my living room so I could lie on the sofa in golden autumn light and watch the shadows of changing leaf patterns silently tattoo across the floor. That's all I did for a half hour.
I traveled to an apple orchard with some friends the other weekend. It was the last day of apple picking season and the trees were stripped bare of red. Car loads of families were arriving by the minute, bringing a sense of urgency to finding what few remaining apples were left swaying high just beyond reach. I resorted to foraging, searching on my knees for apples in the tall grass beneath the boughs, hunting for them like hidden Easter eggs. Try this sometime. They are perfectly good. (Can't you just hear your mother saying that?) This was not October slow. This was October hurry hurry hurry.
Here's what you do when you are hungry when you have only enough oomph to blink. You chop open a butternut squash (remember, slow is the goal here) settle the pieces into a roasting pan tossed with olive oil and salt and pepper, place them in the oven at 375 degrees F. for about 40 minutes, and then you lie back down on the couch. Go back to watching those leaf patterns, listening to gentle jazz with no words so your mind can wander. Soon a warm aroma will wrap around you like a blanket and you'll sigh. That's right. We all need October slow. Go on, settle back, you deserve it after that busy, busy summer. All that other stuff can wait.
Here is an easy soup with a bit of nutty warmth. It was inspired by a new cookbook, "Eating Local" by Janet Fletcher.
---