Vietnamese curried chicken pot pie
(Read article summary)
A curried chicken pot pie is a warm and comforting fall dish.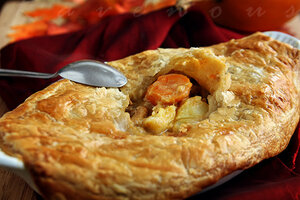 Ravenous Couple
As summer wanes and the autumn leaves turn hues of bright red and orange, we instinctively turn to warm comforting foods like curry. Not a single spice, curries encompass a broad range of spices unique to the geographic locale across many different countries and ethnicities. Aromatics such as galangal, lemongrass, kaffir lime leaves, and chili are pounded and mixed with dried spices, layering complex flavors upon flavors. Typically, curries are composed of a protein, poultry, beef, or seafood along with vegetables in a thick, gravy like sauce. In Vietnam, curry is called ca ri, and the most common preparation is a rich and hearty chicken stew, called ca ri ga. Chunks of potato, carrots, onions are added and the meal is completed with toasted baguette or simply ladled over a steaming bowl of jasmine rice.

However, one variation that we're particularly fond of is ca ri ga pot pie using puff pastry. Take our favorite part of a pot pie (the crust) and add it to intensely fragrant curry. We don't care if you call it fusion, it's just mighty good!

There are many varieties of curries and for a more in depth discussion, read about curries with this excellent article. We prefer using Mae Ploy brand Massaman curry paste for this dish, because it contains a wider array of spices as well as a hint of cinnamon. But feel free to experiment! This brand is great because it comes in a resealable jar and keeps for months in the fridge.
Ca ri ga Vietnamese chicken curry
---