Halloween party menu
(Read article summary)
Roasted baby pumpkins and white chocolate with butter pecans and candied orange peel.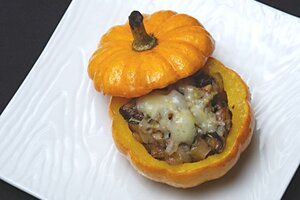 Blue Kitchen
Our last Halloween party some years ago was the kind of party that makes us call the police now. Seventy-five or so people overflowing from our apartment into the hall and onto the fire escape out back. About two in the morning, I started turning the music down out of some semblance of courtesy to our neighbors. I turned it down three or four times, in fact. But at 4:30, when the last guests left and I turned it off, it was still impossibly loud.
Still, we have fond if blurry memories of that party – and a soft spot for Halloween in general. In many ways, it is the perfect holiday. It appeals to all ages and doesn't involve the potential emotional landmines of exchanging gifts. And it's scary, but in a fun way, not in an Earth Day way.
As our Halloween celebrations have gotten a little quieter, our ideas for Halloween treats have become a little more refined. (Not that we're opposed to nabbing a few fun-sized candy bars when they come our way, mind you.) The two recipes here are perfect examples. The first takes advantage of the seasonal appearance of baby pumpkins, elevating them from mere table decorations to charming savory starters that will surprise and delight guests right up through Thanksgiving.
The second recipe can be called candy, I suppose, but it's candy all dressed up for the grown-up table, a sophisticated sweet/salty/fruity treat worthy of serving as the perfect end to a company dinner. Candied orange peel gives it a splash of Halloween color, but it too can live well beyond the spooky holiday.
Roasted baby pumpkins with mushrooms
Serves 4 as a first course
4 baby pumpkins
Olive oil
Salt
1 tablespoon unsalted butter
2 cups roughly chopped mushrooms (I used baby bellas)
1 cup sliced shallots (or yellow onion)
1 clove garlic, minced
1 teaspoon herbes de Provence
Freshly ground black pepper
1/4 cup brandy
grated fresh Gruyere cheese
---