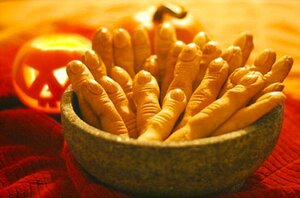 Novel Eats
As I am getting older, I am realizing more distinctly what I love about each holiday – and most of the time it almost always has something to do with the food, whether I am making it or eating it. What I love most about Halloween is the creativity and creepiness of the recipes – tombstone cookies, frog spawn tea, eyeball appetizers (although it doesn't sound very appetizing, does it?). It's probably the holiday where the cook or baker has the most creative license to make something utterly horrifying and delicious at the same time.
This year I could not figure out what I wanted to make, but I finally settled on a recipe that I felt would be easy for not just me to make, but for you as well. I decided to make witches fingers – firm, yet melt in your mouth cookies. I knew I had a real winner of a recipe on my hands when, as I was finishing up the last cookies and putting them on the cookie sheet, my husband declared (gleefully) that they looked disgusting and realistic. Perfect!
These are so delicious that I am having a hard time not eating them all at once! I can see how they are perfect for parties – they're great finger-food! Muhahahahaha!! I am so funny, it's scary! :)
What are you making for Halloween this year?
Witches finger cookies
This vegan recipe is a modified version of the Spooky Witches Fingers recipe on Allrecipes.com, and yields approximately 30 cookies if you make larger fingers or 60 cookies if you make smaller fingers.
---