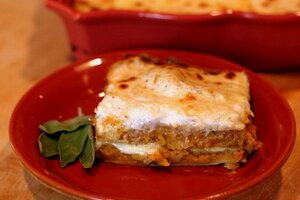 The Runaway Spoon
Ever since I was a student in England, all those years ago, I have made an annual pilgrimage to London. On one such trip, when I was young and still interested in trying to keep up with the latest, some friends and I went to a very trendy Italian restaurant, in a lower ground floor space with funky lighting and soigne staff. Our decidedly un-trendy band managed to settle ourselves on the knee-high white leather banquettes and red leather cubes, placed around a low acrylic table. This is not easy in high heels and a skirt, I can tell you. We clung to our uber-hip beverages and chose dinner from a surprisingly simple menu for such a place.
I ordered tortelloni with pumpkin and amaretti, because it was new to me, and I do love pumpkin. The soft pasta stuffed with amazingly flavorful filling, just dancing in a little pool of sage-infused brown butter was spectacular. I managed to eat every bite from the plate precariously balanced on my knee, and as I am wont to do, asked the server all the details of the dish. She even showed me some of the amaretti biscuits used in the filling, which they also serve with coffee. I knew I had to try and recreate this dish, so I took notes – totally destroying any chance my friends and I had of keeping up a hipster pretense. Well, that and me loudly sliding off the leather cube into a decidedly unlady-like heap.
---
Follow Stories Like This
Get the Monitor stories you care about delivered to your inbox.