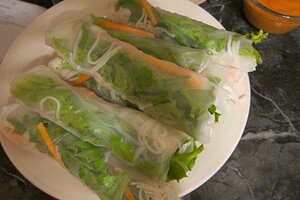 The Rowdy Chowgirl
I don't know why October was a party month in my department at work, but it seemed to be. An email went around recently about a Fall Celebration party, with instructions to bring a tapas/appetizer to share. I thought up all sorts of grand ideas, from a Spanish tortilla to lamb meatballs, but couldn't figure out how to operationalize any of them. I needed something portable, something cold or microwavable…a few days before the party, I was still stumped.
"Oh honey," Susie said, "Just do something easy. I'm not doing anything fancy. I'm just going to clean out my fridge. I thought I'd bring a few kinds of cheeses, and crackers, and some hummus, and bread, and a hazelnut torte, and of course some chips and my homemade salsa…(!!!)"
"I know what I'm going to do," Bruce said. "Caprese stacks with a balsamic reduction."
"I think I'll bring salumi," said Tina.
Everyone seemed a-buzz with delicious plans except me. I was Goldilocks, wandering aimlessly in a house of decisive bears, all of whom had appetizers that were just right.
Finally, prompted by Susie's mention of cleaning out her fridge, an idea took shape. I still had all of the leftover ingredients from the Thai Fresh Rolls I had just made as an appetizer for my dumpling party. I would leave out the shrimp, and they would be vegan, gluten-free, and basically safe for any set of dietary restrictions. I decided not to make the rolls the night before, but to assemble them at work – as Thai Fresh Rolls should, after all, be very fresh. Fresh and crunchy.
I still had some cooked tofu matchsticks, and I made some more rice vermicelli noodles. I chopped my other ingredients, made a dipping sauce, and put everything into small containers. I also packed up a cutting board, a serving plate, the rice paper rounds, a glass pie plate for soaking the rice paper rounds, and put it all in the refrigerator for the next morning.
Just before the party, I set up an assembly line on the break room table at work and started rolling. Across from me, Bruce stacked slices of tomato mozzarella, and basil and drizzled them with his special balsamic reduction. Everyone who strolled through the break room door paused in their lunchtime autopilot path toward the refrigerator, and turned to look more closely at this unusual sight. It only took about 10 minutes to assemble a dozen fresh rolls, which I then cut in half with scissors.
---