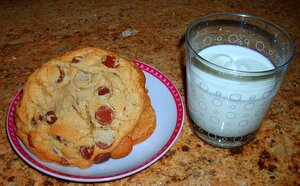 The Pastry Chef's Baking
Who doesn't like chocolate chip cookies? Okay, there might be some people who don't but let's pretend that's in another universe and not in the one I inhabit. It isn't just about the taste and texture of an excellent chocolate chip cookie with crisp edges, chewy middles and melt-y chocolate chips. It's about the memories they invoke. I've met many people whose early baking efforts started with following the recipe on the back of the Nestle Tollhouse chocolate chip package.
For many people, there are a lot of good memories that come with chocolate chip cookies. My funniest one from childhood wasn't actually from my baking efforts but from my sister's. Anyone remember a product called Mrs. Good Cookie? They were frozen cookie dough sold in "sheets" but already portioned into individual cookie sizes and all you had to do was break them apart, put them on a cookie sheet and bake them. Sounds simple enough, right? Unless you're my sister and talking on the phone to her best friend after she put the cookies in the oven and let them bake … and bake … and bake. A sheet pan full of burned cookies later, Mrs. Good Cookie wasn't that good. To this day, I tease my sister that while she's a good cook, she can't even bake slice 'n bake cookies. Or rather, she can bake them, she just doesn't remember to take them out of the oven, haha.
Despite having two go-to recipes that I really like, I always love trying new recipes for chocolate chip cookies. Every new recipe is like a flag waving in front of me shrieking, "Try me! Try me!" I can't resist. This one is from the "Land O Lakes: Cookies" cookbook. The only thing better than a chocolate chip cookie is a BIG chocolate chip cookie. You can't make just any recipe be a big cookie simply by making the dough ball bigger when you bake it. The dough has to be firm enough to hold the larger shape and not spread out all over your pan when you bake it. Because the point of making a BIG cookie is to have it be thick.
---