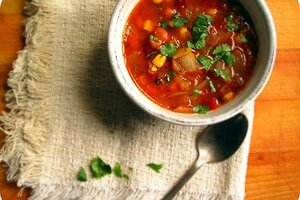 In Praise of Leftovers
Nothing new over here in the Leftoverist household. How can it be? That nothing changes in my life, but I am so full of things to say? And soup again? That's really nothing new. If I were to document all the soups produced in this kitchen, you'd really grasp the full meaning of "leftovers." And you might not keep reading.
But stay tuned for this one. My mother-in-law has been making this for a long time, and it easily wins the prize for easy, fast, nutritious, and mass appeal. Chalk another point up for beans.
P.S. I follow a lot of food blogs. One thing I notice (and participate in) is lots of sweets and side dishes. Or main dishes with too many steps (or too many expensive ingredients in "30-minute meals). When I find something like this soup, I hang onto it. With everything I know about food, I'm still desperate.
Mexican corn and bean soup
Another plug for Trader Joe's frozen roasted corn. Delicious! Cheap! Regular frozen corn will do just fine, though. And if you've cooked up some beans yourself, you can, of course, use those instead of canned ones.
2 tablespoons olive oil
1 large yellow or white onion, finely chopped
4 garlic cloves, minced
2 teaspoon chili powder (ancho is my favorite)
1 teaspoon cumin
1 teaspoon cinnamon
1 tablespoon sugar
Coarse salt
2 14-ounce cans diced tomatoes
1 14-ounce can kidney beans
1 14-ounce can pinto beans
2 cups frozen corn
Water
1/4 cup cilantro, chopped
sour cream, diced avocado, crushed tortilla chips, and more cilantro for garnish
---