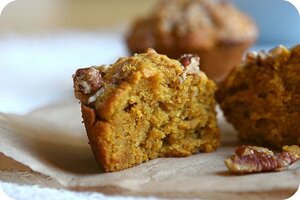 In Praise of Leftovers
I woke up this morning feeling content. Sometimes my anxieties come flooding in before my feet hit the floor. On good mornings, I don't let myself get out of bed until I've formed some intentions for the day – to be grateful and mindful, to be kind to the children, friends, or clients in my sphere. And today, one of my intentions was to bake.
I found this recipe on Foodgawker. Foodgakwer is a (favorite) juried site where food bloggers can submit photos. (You can find In Praise of Leftovers gallery here.) I like searching for recipes on it because (1) All the thumbnail photos pop up and I can compare recipes (2) I'm exposed to great food blogs I didn't know about and (3) Going to the site is always a visual treat. I chose these for the crunchy topping. The kids downed two apiece and I took the rest to church. My friend Dawn was sitting across the table eating one and praised them. She said, "Wow, you just lit up! Nothing makes you happier than cooking for people." And she's right.
These are just what I want in a pumpkin muffin – heavy on the pumpkin, moist, sweet, and a crunchy streusel that elevates them above your average version.
Pecan crunch pumpkin muffins
Makes 18
Adapted from Once Upon a Chef. You can leave off the topping, but I think they'd be much less interesting. If you don't want nuts, you can sub old-fashioned oats for the nuts and still get a nice streusel.
For Topping
3 tablespoons all-purpose flour
3 tablespoons unsalted butter, melted
1/4cup demerara sugar (raw cane sugar, also called turbinado)
1/2 cup chopped pecans
1/4 teaspoon cinnamon
---