Butternut squash ravioli with butter sage sauce
(Read article summary)
Butternut squash ravioli made from scratch is worth the effort.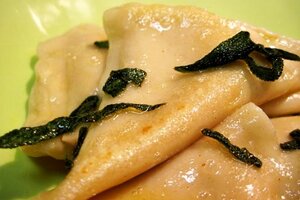 nestMeg
I love Sundays. The waking-up-lazily-at-11, the excuse to skip straight to lunch, the afternoon nap and, of course, the intensive Sunday dinner. The last few weeks, it seems as though I cannot be happy unless I'm sweating over a hot stove, etc.
Also, my dear friend Katie was coming over to write an article about me for her food writing class, so I had to simultaneously feed and impress her very selective vegetarian palate.
Homemade ravioli fit the bill as sufficiently labor intensive and, ultimately, delicious.
I've adapted this recipe to include ricotta cheese in the filling. It's just not ravioli without ricotta cheese, in my opinion. Actually, it's just not a meal without cheese, period.
Butternut squash ravioli
Filling
1 medium or 2 small butternut squash, cut in half lengthwise
olive oil
dash of nutmeg
several dashes of cinnamon
pinch of brown sugar
salt & pepper
1/2 cup ricotta cheese
Pasta Dough
2 eggs
1 and 3/4 cups flour
1/2 teaspoon salt
1/2 tablespoon olive oil
2 tablespoons water
Butter sage sauce
3 tablespoons butter
8 sage leaves, thinly sliced
Preheat the oven to 400 degrees F. Place butternut squash on a pan with a lip and drizzle with olive oil. Cook for 20 minutes, flip, then cook for another 20 minutes, or until tender.
Meanwhile, mix all pasta dough ingredients in a bowl. Knead for several minutes on a well-floured surface, adding more water as needed. The dough should be smooth and elastic. Wrap the dough ball with plastic and let sit for 30 minutes.
Once butternut squash is tender, scoop out the flesh and stir in nutmeg, cinnamon, brown sugar, salt and pepper. Let cool to room temperature (or place in the refrigerator), then add ricotta.
---