Stuffing recipes: Two ideas
(Read article summary)
Stuffing recipes are a must for the holidays. Here are two stuffing recipes to get you started.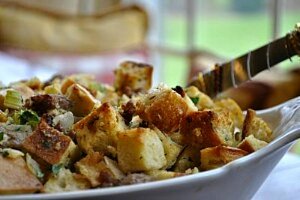 Three Many Cooks
Everyone has a favorite stuffing recipe. Perhaps it is Grandma's sage and apple stuffing recipe written down on a tattered and stained card, or maybe you prefer a sleek herbed oyster stuffing recipe stylishly presented in a gourmet cookbook. If your family argues over whether yams should be unadorned or candied, agonizes if a 15 lb. or a 19 lb. bird will be enough – stuffing persists as a peacemaker. Humble and off to the side it is everyone's secret favorite component of our American traditional meals. Of course not many openly admit that stuffing is their No. 1 dish on the holiday table, which is exactly why it is always the first dish to run out.
Thus has emerged the under acknowledged American tradition of making an "additional batch of stuffing on the side." Because those bird cavities, even the 19-pounders, don't hold much. (And heaven forbid if a lack of everyone's favorite dish adds additional tension to the gathering.)
Two of our Stir It Up! bloggers have stuffing recipes to get you started in the run-up to the holidays. Since we are still a couple of weeks away, you could make these stuffing recipes now entirely for yourself. That way, when the holidays roll through you'll feel like you've had your stuffing. And then you can graciously offer up the last scoop to your second cousin or your quirky uncle and everyone will be amazed at how easily you embody the holiday spirit of grace and generosity. It's that easy.
---