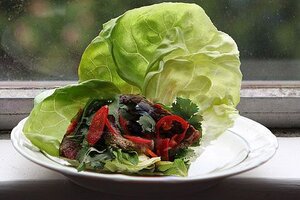 Feasting On Art
Life has been hectic as of late. I am in the process of moving house and saying goodbye to my first Sydney home and the beautiful light the big windows provided.
I have been dividing my time between cleaning, packing and doing a bit of home repair as an indoor painter with only a nominal amount of time left to cook. This recipe, a concoction of odds and ends from the pantry, was simple, quick and full of flavour. Rolled into a lettuce leaf, the spicy salad is edible on the go and keeps for a couple of days in the refrigerator.
Visual characteristics of the slab of raw beef in Raphaelle Peale's Still Life with Steak (see Photo 2, above) are repeated within other elements of the composition.
The curve of the cabbage is mimicked by the curve of the fat and the veins of the leaf are also found in the white threads of sinew of the beef. By using the same visual language to represent the steak and cabbage, Peale is able to connect two seemingly disparate objects. According to Alexander Nemerov in his book The body of Raphaelle Peale: still life and selfhood, 1812-1824, Peale included the cabbage in the position where a skull would be found in a vanitas painting – a play on the phrase 'head of cabbage.'
Steak salad in a lettuce leaf with fresh herbs
Serves 4
1 red chilli
3 tablespoons cider vinegar
500 grams (1 lb.) lean porterhouse steak
1 tablespoon rice vinegar
1/2 tsp Chinese five spice
1 teaspoon brown sugar
1 small head butter lettuce
handful fresh mint
handful fresh coriander (cilantro)
1 lime, juiced
1/2 tsp fresh ginger, minced
---
Follow Stories Like This
Get the Monitor stories you care about delivered to your inbox.