Sausage, apple, and leek stuffing
(Read article summary)
This Thanksgiving stuffing recipe can easily be tripled or doubled.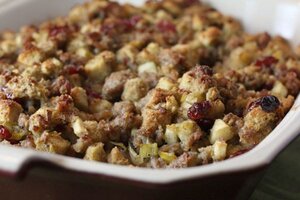 The Gourmand Mom
The original idea for this stuffing comes from the Food Network recipe, found here. Over the years, I've adapted and simplified the recipe to suit our tastes. The recipe can easily be doubled, tripled, or stretched by adding more bread cubes and stock. Add the stock gradually until it reaches the right consistency. The mixture should be moist, but not mushy.
Sausage, apple, and leek stuffing
1 pound Bulk Breakfast Sausage
2 Tablespoons Butter
2 Granny Smith Apples, peeled and diced
1 1/2 cup Leeks, finely sliced (about 1 large leek)*
6 cups Herb-Seasoned Bread Cubes
2 1/2 cups Chicken Stock (approximately)
1/3 cup Dried Cranberries
Salt and Pepper, if desired
*To see my photo guide on leeks, click here.
---