Spiced sweet potato puree with pecan streusel
(Read article summary)
Spiced sweet potato puree with pecan streusel is sweetened with maple syrup.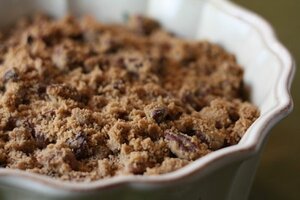 The Gourmand Mom
I've been making some variation of these sweet potatoes for as long as I've been cooking a Thanksgiving meal. They're spicy, they're sweet, they're practically a dessert. The base is always the same; sweet potatoes, slow-roasted to develop maximum sweetness, pureed until smooth, sweetened with a bit of maple syrup, then spiced with a generous amount of cinnamon, ginger, and nutmeg. The topping varies from year to year. This year, I'm going with a crumbly pecan streusel topping. For a less sweet alternative, buttered pecans, toasted with cinnamon and cayenne, add the perfect crunch and kick of spice. And it's hard to go wrong with toasted mini marshmallows (for the kid in all of us).
Spiced sweet potato puree with pecan streusel
For the Sweet Potatoes:
5 large Sweet Potatoes or Yams
1/4 cup Maple Syrup
1/2 stick Butter, melted
1 1/2 teaspoon Cinnamon
1/4 teaspoon Ginger
1/8 teaspoon Nutmeg
For the Pecan Streusel:
1/2 cup Flour
1/3 cup Brown Sugar
1/2 teaspoon Cinnamon
1/2 cup Pecans, coarse chopped
1/2 stick Butter, melted
Preheat oven to 375 degrees F. Wash the sweet potatoes and pierce the skins several times with a fork. Place on a baking sheet and bake for 1 1/2 – 2 hours, until very tender. Allow to cool. When cool enough to handle, scoop out the potato and discard the skins. Puree the sweet potatoes until smooth. Stir in the melted butter and syrup. Add the syrup a little at a time to reach your desired level of sweetness. Add the cinnamon, ginger, and nutmeg. Stir to combine. Taste and adjust seasoning, if desired. Spoon the puree into a baking dish.
---
Follow Stories Like This
Get the Monitor stories you care about delivered to your inbox.