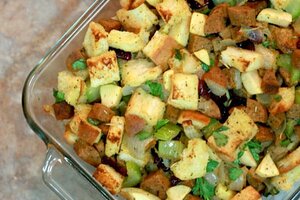 Novel Eats
There are a lot of things I love about Thanksgiving meals – the mashed potatoes, the roasted Brussels sprouts, the apple pie. But there are a few dishes I normally would rather pass on to the next person at the table. It wasn't until a couple of years ago that I finally met a stuffing I actually liked and even wanted to try to replicate myself. Most vegetarian and vegan stuffing dishes I have tasted have been too dry, over-spiced and generally just have tasted like they have been an afterthought to the meal. Granted, there are a lot of people who love the same stuffing that I dislike, so no offense to them.
But I bet there are quite a few of you out there who claim you'll never like stuffing. Maybe you won't, but before you throw in the towel completely and say you're done trying a bite of it at every holiday meal just to be nice, try this stuffing. It's rich, the spices are prominent yet balanced, and the vegan meat gives it a heartiness that make this become an instant star of all the side dishes. Plus there's a little bit of sweet added in by way of cranberries and apples. Did I mention I also don't like cranberries? In this recipe, I like cranberries.
Vegan stuffing
This lovely recipe came to me from a friend who veganized this recipe for us, her only guests who had vegan diets. Thank you N!
Serves 4-6
---