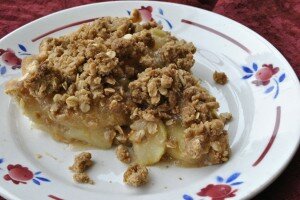 Three Many Cooks
Makes one 9-inch pie
1 recipe Rich, Flaky, Easy-Roll Pie Dough (see below) or one 9-inch refrigerated pie crust, pre-baked following package instructions
Apple Filling
3/4 cup granulated sugar
3/4 teaspoon ground cinnamon
1/4 teaspoon salt
4 pounds crisp, firm apples, such as Granny Smith, cored, peeled and sliced ¼-inch thick (a heaping 12 cups)
4 tablespoons butter
2 tablespoons cornstarch
2 tablespoons brandy (optional)
1 teaspoon vanilla extract
Oatmeal Crumble Topping
3/4 cup all-purpose flour
1/2 cup old-fashioned oatmeal
1/2cup dark brown sugar
1/2 teaspoon ground cinnamon
6 tablespoons butter, melted but not hot
THE CRUST: Following recipe below, make and bake "Rich, Flaky, Easy-Roll Pie Dough" or pre-bake a refrigerated piecrust.
THE FILLING: Meanwhile, mix sugar, cinnamon and salt; toss with apples. Heat butter in a large (11- to 12-inch), deep skillet over medium-high heat until it looks and smells pale nutty brown. Add apple mixture; cover and cook until they soften and release their juices about 7 minutes. Uncover and continue to cook until juices thicken to a light syrup, 1 to 2 minutes longer.
Meanwhile, whisk cornstarch, brandy, and vanilla in 1 cup of water; stir into apple mixture until it thickens, less than a minute. Transfer apples to a jelly roll pan to cool quickly; refrigerate or set in a cool place until apples cool to room temperature.
THE CRUMBLE: Meanwhile, mix flour, oatmeal, sugar, and cinnamon; stir in butter with a fork until well combined. Use hands to form clumps.
THE PIE: Adjust oven rack to center position and heat oven to 375 degrees F. Pour cooled apples into baked crust. Sprinkle crumble over apples. Bake until apples are bubbly and crumble is golden brown, about 30 minutes. Cool slightly or to room temperature and serve.
---
Follow Stories Like This
Get the Monitor stories you care about delivered to your inbox.