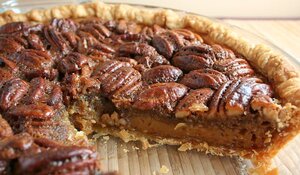 The Runaway Spoon
Pecans, it seems to me, are thought of as a particularly Southern nut. I cannot tell you anything about its growing condition or to what region or country the pecan is indigenous, but the trees proliferate around here. And the nuts feature prominently in Southern cooking from classic pie to divinity candy to pecan cheese straws.
You rarely see pecan trees in residential areas. But out in the country, they are everywhere. Driving through the Delta, you'll see the evidence. One lone tree in front of a farm house, or two long rows making an alley up to a site where there clearly used to be a house. And often the plot of land between the house and the cotton fields or the bean fields will be a pecan orchard, dark and shady and inviting.
Pecan trees are beautiful, with an arching canopy and dense foliage. But do they ever produce nuts. That's the point, I know, but these trees produce a lot of nuts. I have oak trees in my yard and the acorns that drop from those trees is nothing compared to what a pecan tree produces. And pecan nuts are hard. I was once beaned on the head by a falling nut and it really hurt! Woe to the unwitting person who parks the car under a pecan tree. Not only could falling nuts ding the paint job, but any tree with that many nuts naturally attracts a lot of birds.
So even with one tree, the proud keeper of a pecan is likely to have an overwhelming supply of nuts. Paying kids a nickel a nut to pick up all the fallen from the grass is a common ploy. Those nuts are gathered and scooped into brown paper grocery sacks which tend to sit out in the laundry room or screened porch until someone figures out what to do with them. Pecans are hard to shell. The outer shell is tough and hard and the nutmeat really clings to the interior walls. I think this may be why many Southern brides through the ages received nutcracker sets as a wedding gift. A pretty silver nutcracker and a set of picks that look like decorative dental tools. Shelling pecans is labor intensive, arduous and just plain frustrating. Now, this being the South, and the folks being hospitable, the general method for riding oneself of the bounty is taking one of those grocery bags full of little brown devils to a neighbor or relative. As the recipient of such blatant kindness, one can only be gracious and say "thank you" and "how sweet" and "ooh, I love pecans." But the truth is that the passing on of the pecan is an evil. It is impossible to say no thank you or to complain, but nobody wants a big bag of unshelled pecans. That's why the giver brought them – to get rid of them. And there is always that vague feeling that in return for the pecan pest sharing the bounty, you just have to shell a mess of them and make a pie or some cookies to return the favor.
---