Vegan mashed potatoes
(Read article summary)
These vegan mashed potatoes flavored with chipotle are so good you don't even need gravy.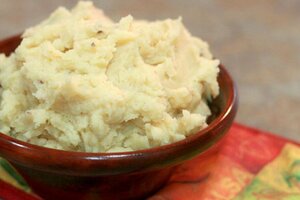 Novel Eats
When it comes to holiday dinners, one of my absolute favorite side dishes is mashed potatoes. Probably one of the reasons why I love it so much is because they are nearly always homemade – not made from a box (please don't make your holiday mashed potatoes from a box!) – and they usually have those little lumps of potatoes that escaped the masher. I always enjoy trying other people's mashed potatoes, too, to see how they like to make them. There are so many variations to mashed potatoes, from the creamy to the rustic to the unexpected.
This recipe, I hope, falls into the unexpected category. It's rare to find chipotle peppers in mashed potatoes, but they, along with the fresh garlic, add a little bit of a kick and flavor that is entirely satisfying. Because of the wonderful mixture of flavors, I'd recommend forgoing the gravy and stick to serving this with vegan butter or vegan sour cream instead.
Chipotle Mashed Potatoes
This recipe was inspired by Chipotle Smashed Potatoes on Allrecipes.com
2 pounds red potatoes (about 8-10 potatoes), peeled and cubed
2 teaspoons salt
2 tablespoons vegan butter
2-3 chipotle peppers in adobo sauce, minced
2 cloves garlic, minced
1/4 cup vegan mayonnaise
1/4 cup vegan sour cream or plain vegan yogurt
Prepare your red potatoes by peeling and cubing them. Place them in a saucepan, cover with water, and boil until tender, about 20 minutes.
While the potatoes are boiling, mince your chipotle peppers and garlic, and gather together your other ingredients.
Once your potatoes have finished cooking, drain them. Add the salt, vegan butter, minced chipotle peppers, minced garlic, and vegan mayonnaise. You can also add the vegan yogurt now, however I chose to add it in the next step. Mash everything together with a potato masher, or to make your potatoes smoother use a hand mixer. Add in the soy yogurt now if you have not already.
---