Four variations on Thanksgiving leftovers
(Read article summary)
Part of the joy of Thanksgiving are the leftovers that follow.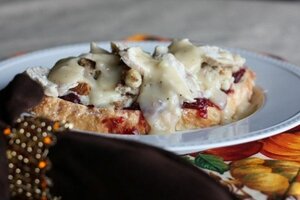 The Gourmand Mom
Preparing a Thanksgiving feast for a crowd can be both exhilarating and utterly exhausting. At the end of the day, your kitchen looks like a tornado has whipped through it and you probably feel as if you've completed a triathlon. But, your belly is full, your guests have been well fed, and if you're lucky, your fridge is filled with leftovers. Those are all things to be most thankful for.
Is there anything better than Thanksgiving leftovers?? I think not. Perhaps the most joyous part of a fridge full of Thanksgiving leftovers is being able to put your feet up for a few days, recover from the cooking marathon, and live off of the ready-made meals in your fridge. While it would be perfectly delicious to just reheat a plate of Thanksgiving dinner each night, it's nice to add a little variety to leftovers; make it feel like a fresh meal every night. With that in mind, I offer you four simple variations on Thanksgiving leftovers.
Thanksgiving Leftover Variation #1 – Turkey Soup
Don't let that turkey carcass go to waste! There's so much flavor waiting to be extracted from those bones. Get the broth started right after dinner. Simply throw the whole turkey carcass into a large pot, cover with water, and simmer (partly covered) for 3-4 hours. Don't worry if there's still some meat or turkey skin hanging on the turkey! Just throw the whole thing in the pot and let it start working while you sit down to enjoy some pumpkin pie. Once it's simmered, strain the broth and refrigerate overnight. The next day, you can finish making the soup. Click here for my step-by-step guide to making a basic chicken soup. You can follow the same process for turkey soup.
Thanksgiving Leftover Variation #2 – Open-faced Thanksgiving Sandwich
---