Roasted radicchio with white beans and tomatoes
(Read article summary)
Roasting radicchio is a favorite way to prepare it in Italian kitchens.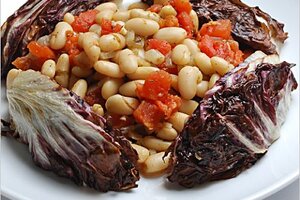 Blue Kitchen
Of the five taste sensations, bitter is often the toughest sell, the one we come around to last. For many of us, we discover its pleasant edge through coffee, dark chocolate or perhaps licorice. In the produce department, you'll find varying degrees of natural bitterness in escarole, broccoli rabe, eggplant, curly endive, mustard and dandelion greens … and in deep red radicchio.
A form of chicory, radicchio enjoys a long, storied history in Italy. Roman scholar and prolific author Pliny the Elder wrote of its medicinal benefits in Naturalis Historia around 77 AD, claiming that it was good for insomnia and purifying the blood. Its culinary history dates back centuries too, but Americans are fairly recent converts to its bitter charm. Once found only in specialty stores here, radicchio has become increasingly mainstream in recent years, turning up in supermarkets everywhere. Its crunch and bitter bite even add interest to bagged lettuce mixes. While we tend to enjoy it raw and in small doses, as a salad accent, Italian cooks prefer to grill or roast it.
Whether or not radicchio will cure your insomnia, it's a rich source of dietary fiber, vitamins and minerals. And studies show that the antioxidant content in radicchio is higher than that of spinach and blueberries. If you're looking for seasonal ingredients, cool weather-loving radicchio is in season in late fall (as in right now) and late spring.
Here, I've roasted radicchio, which slightly tames its bitterness (but only slightly), and paired it with white beans, tomatoes, garlic, shallots and sage. Easy to prepare, this dish makes for a handsome presentation. I served it with quickly sautéed pork chops. The radicchio's distinctive flavor played equally well with the beans and the pork.
---