Salt and vinegar sweet potato fries
(Read article summary)
A delicious snack made from those leftover Thanksgiving spuds.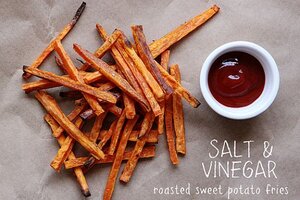 Feasting On Art
When making chipotle sweet potato mash for our Thanksgiving table, I grossly over-estimated the number of spuds needed for the recipe. Left with a very large potato in the pantry, a batch of salty, sweet and sour fries seemed the best solution. By baking the potatoes with a bit of oil, the desired crispiness is achieved sans the overbearing oil taste often found in the deep fried variety. The fries need to be left alone to toast and become slightly blistered in the hot oven.
The still life has had an important role within the history of photography since the inception of the medium in the mid-19th century. As the technology advanced, still life compositions were the simplest works to produce because the inanimate objects gave the artist the greatest amount of control during the long exposure time. With further inventions that shortened the required length of exposure, photographers were able to explore other genres in an attempt to propel the medium forward within the visual arts. In the 1850s, when Still Life with Pumpkin, Book, and Sweet Potato was shot, photography was gaining importance and was often included in major exhibitions. A daguerreotype is made by heating mercury to develop a copper plate, coated with a thin layer of silver that was exposed to sensitized light with iodine vapor to form crystals on the plate. The process creates a unique image that is mounted in a sealed case to prevent oxidization. Because the entire operation was so labour intensive, the process was quickly abandoned in favor of the ambrotype and tintype technique.
Salt and vinegar roasted sweet potato fries
Serves 2-3
1 large sweet potato (about 1 kg)
2 tablespoons vegetable oil
2 tablespoons salt
1 tablespoon apple cider vinegar
---