Homemade chicken pot pie
(Read article summary)
A bubbling chicken pot pie with a homemade crust will warm up dark nights.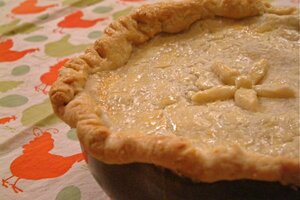 Kitchen Report
I have never made a homemade chicken pot pie. Until now.
Woah. I feel like I just got let in on some secret toward finding eternal happiness. This is encouraging, particularly at this time of year when it is completely dark by 5 p.m.
Chicken pot pie is one frozen food that I will admit to eating. Maybe it has some childhood nostalgia for me. My parents had busy careers and even though we enjoyed lots of home cooked meals, an upside down chicken pot pie straight from the mini aluminum pie tray with a slosh of applesauce on the side was one of my favorite dinners. It was one of the first things I got to make as kid all by myself, which means, I got to poke fork holes into the top of the frozen pastry and slide it into the oven. By the time I finished watching an episode of "Laverne & Shirley," my dinner was ready.
My culinary standards have improved since then, but I still occasionally eat frozen pot pies because they are just so easy. Particularly if I'm coming home late and the cupboard is empty.
Then this cookbook turned up on my desk at work: "Simple Comforts" by Sur La Table.
This cute-looking cookbook has 50 recipes for all of those comfort foods everyone loves (apple pie, grilled cheese, chili, popovers, chocolate chip cookies). If you know a beginning cook, this might be a good starter for him or her.
---