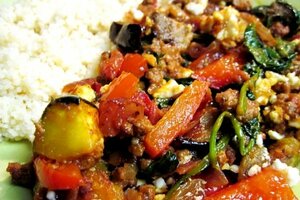 nestMeg
I am turkied-out. Following my last post, my family ate turkey in so many different combinations that I began to think I'd be perpetually tripping out on tryptophan. We had traditional Thanksgiving dinner leftovers, ABC sandwiches with turkey (I also added cranberry sauce and substituted the apples for apple pie filling), turkey & cranberry sauce quesadillas and vegetable soup with turkey broth.
When I left my family's house today, I vowed not to consume another meal involving turkey until all the tryptophan left my system and rendered me alert once again.
This recipe fit the bill. In fact, this recipe didn't involve any foods I consumed on Thanksgiving, but still contained a few seasonal ingredients. (Yay local squash!) Plus, it allowed me to use up more veggies that I had in my apartment fridge – feel free to substitute or remove any of the vegetables. Or opt for the vegetarian version, sans the lamb. The crucial feature of this meal is the spices, really.
I combined two different recipes to create this one. I liked the idea of baking the lamb, and I love curried anything. So here's the best of both worlds.
Couscous with Curried Baked Lamb
1/2 acorn squash, peeled, seeded and diced
1/2 eggplant, diced
Olive oil
1 pound ground lamb
1/2 cup golden raisins
A few tablespoons of vinegar
1 red bell pepper, diced
1 red onion, diced
3 garlic cloves, minced
1 tablespoon curry powder
1 tablespoon oregano
1 teaspoon cumin
1/2 teaspoon cinnamon
1/2 teaspoon red pepper
1 cup diced tomatoes
1 tablespoon tomato paste
2 cups baby spinach
1 cup feta cheese, crumbled
1 cup couscous
1 & 1/2 cups boiling water
---
Follow Stories Like This
Get the Monitor stories you care about delivered to your inbox.