Christmas cookie swap: Chocolate Bites with Candy Cane Kisses
(Read article summary)
A group of New York bloggers came up with some great ideas for a Christmas cookie swap.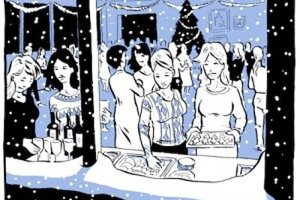 Three Many Cooks
Even before Thanksgiving I started seeing Christmas cookies in magazines and on blogs. Well of course I wanted to make all of them! But who has the time? So I asked my good friends Chris and Karen from The Peche if they wanted to have a holiday cookie swap in New York. And how could we have a New York City cookie anything without involving Gail from One Tough Cookie and baker extraordinaire, Abby Dodge. The four of us got to brainstorming and a few weeks later we were at a midtown restaurant havin' lunch and swappin' cookies with more than twenty other bloggers and cookie lovers.
The restaurant gave us the run of the upstairs where everyone laid out their cookies over several tables. We were all so busy drooling over the cookie smorgasbord and filling up our containers that it was hard to break away and order lunch, but eventually we'd all had enough sweet and needed to counterbalance with a bit of savory.
The cookie swap was such a great idea. I baked one kind of cookie and came home with more than three dozen different cookies made by some seriously gifted bakers. There was everything from Anna's Millionaire's Shortbread and Chris' Triple-Chocolate Cranberry Oatmeal Cookies to Erika's (now famous) Homemade Nutella Chip Cookies and Jackie's Peppermint Crusted Double Chocolate Candy Cane Cookies. We are enjoying each and every one.
---