A lesson from snowman cupcakes
(Read article summary)
Sometimes things come out wobbly, despite our best intentions.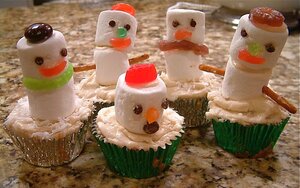 Kitchen Report
Since I've started producing Stir It Up! on CSMonitor.com I find that a lot of people share their food-related thoughts with me and sometimes ask me questions. Sometimes I have an answer or an idea, and sometimes I do not. Here are for-real questions that I've received in the past two weeks:
"Do you know how to de-bone a duck?"
"I'm throwing an Inuit-themed dinner party for my wife's birthday. Have you come across any good northern recipes that maybe Eskimos would serve?"
"I'm going to a Christmas cookie party that is actually quite competitive. Do you have any good ideas for what I could bring?"
The first two drew blank stares from me. For the third question I decided to fake it (I love a good challenge). "Sure," I replied, "I think you should take snowman cupcakes."
What? Where did that come from? I've never seen or made snowman cupcakes.
Fortunately I was seated at my desk at work and Google was within inches of my fingertips. "Snowman cupcakes," I typed in the search engine and with a triumphant grin I swiveled my computer monitor toward my colleague who had asked the question.
"See, just look at these cute Betty Crocker snowmen. Or this beret-wearing snowperson by Martha Stewart," I said confidently. "I'm sure you could do this." She seemed to like the idea, and I did, too.
---