Christmas popovers
(Read article summary)
Popovers make a perfect Christmas morning breakfast paired with a hot drink.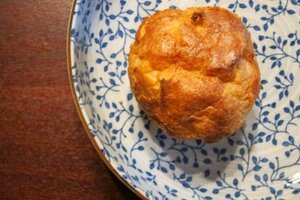 The Rowdy Chowgirl
It's Thanksgiving and Christmas Basket season again. Just like every year at this time, I am up to my eyeballs in coordinating this holiday charity project that provides the groceries that will make holiday dinners for needy families in my neighborhood, and Christmas presents for the children, too. We helped 52 families at Thanksgiving. And now we're headed straight toward Christmas Basket delivery day like a runaway freight train with boxcars full of presents and turkeys and produce and volunteers and spreadsheets and…
You know that thing that happens when you have been working on something really difficult and time consuming and a deadline is looming, and you decide that you absolutely MUST clean the entire house from top to bottom, knit a sweater, and reorganize your spice cupboard? Or in my remote past, assemble an entire Victorian dollhouse from a kit, when what I really needed to be doing was to finish my research so I could actually graduate from grad school. I think you know what I'm talking about.
Well, something of that sort came over me a few weeks ago. Out of the blue, I decided that it was time to master the art of the popover. I have gone on record as saying that I'm not much of a baker. And yet, it suddenly seemed of the utmost importance to not only make baked goods, but fussy, tricky baked goods of the sort that lead people to leave despairing pleas for advice in online forums. I found a few recipes that looked good and promised to produce popovers that would reliably puff up into light, airy pastries. I foolishly – if predictably – ruined the first batch by substituting cream for milk because I had cream and it sounded good. I forced myself to comply with the next recipe, and still produced hockey pucks.
---