Super Sugar Sparkle Cookies
(Read article summary)
If the snow drifts get too high to venture out, bring some sparkle inside with these sugar cookies.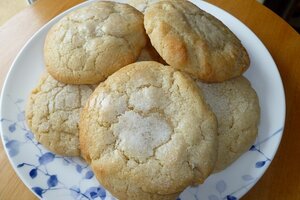 The Pastry Chef's Baking
These cookies are delicious, especially eaten just slightly lukewarm. They come out thick with crisp edges and the middle is the perfect combination of cakey and chewy in a sugar cookie. Almost like Specialty's cookies. And I adore Specialty's cookies. Use fresh butter when you make these because so much of the flavor in a vanilla/sugar cookie is the butter. I normally don't make sugar cookies that often as I don't eat them as often as chocolate chip or even pure chocolate cookies. But I can see making these regularly. It's a good gift cookie for people who don't like chocolate (hard as that is for me to fathom but those peeps do exist) and prefer vanilla flavors.
The recipe calls for using sparkling white sugar, which can be obtained from The Baker's Catalog. I used regular granulated sugar and that was just fine. If you want to make it less plain and dress it up a little, you can also sprinkle with colored sugars. I'm a bit of a purist though and think sugar cookies should be equally pure. I like it sprinkled with plain white sugar.
Oh, and I tried one batch with the egg wash and sugar sprinkled on top and another batch without the egg wash and just the sugar sprinkled on top. Although the ones with the egg wash browned more nicely, the sugar sprinkles were absorbed too quickly into the egg wash and didn't really stay visible even before baking. I actually prefer the version without the egg wash. Bake only until the edges are golden and the top of the middles look only just dry. Don't overbake them as part of the goodness is the middles being moist and chewy.
Super Sugar Sparkles
From "Great Cookies" by Carole Walter
3 cups all-purpose flour, spooned in and leveled
1/2 teaspoon salt
1/4 teaspoon baking soda
1/4 teaspoon cream of tartar
1 cup (2 sticks) unsalted butter, slightly firm, cut into 1-inch pieces
1-1/4 cups superfine sugar
2 large eggs, separated
2 teaspoons pure vanilla extract
2 tablespoons milk
2 teaspoons water
1/3 cup sparkling white sugar, for garnish
Preheat the oven to 375 degrees F. Line the cookie sheets with parchment paper.
Whisk together the flour, salt, baking soda, and cream of tartar. Set aside.
---