Black-eyed peas recipe for New Year's Day
(Read article summary)
Serving black-eyed peas for New Year's Day is a Southern tradition that some trace back to the Civil War.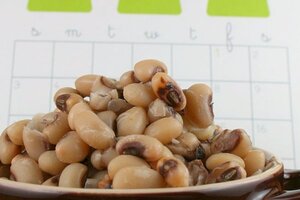 The Runaway Spoon
I have always known that on New Year's Day, you eat black-eyed peas for good luck in the coming year. My parents weren't necessarily the strictest adherents to this philosophy, but some how or another, black-eyed peas generally made an appearance on January 1. We had a family friend who made Hoppin' John, and sometimes we'd end up at their house, even just for a brief stop and spoon full of black-eyed peas.
Now, I never knew that eating good luck peas was a particularly Southern tradition. But over the years, I have been informed that it is in fact very Southern and generally a practice relegated to our part of the world. To me, black-eyed peas on New Year's just is.
But in the interest of accuracy, I did a little research to discover more about the meaning behind this tradition. What I found out was that eating black-eyed peas on New Year's day is a Southern tradition said to bring good luck. Beyond that, the ideas were so diverse, you just know that no one really has an answer. The black-eyed peas are for luck, or prosperity, the peas represent coins and greens foldin' money. The peas swell when cooking, which means an increase in your fortune. Eating humble food shows that you are a humble person worthy of good fortune. Peas bring peace. The idea dates back to the Civil War, it dates back to the ancient Babylonians. Whatever. As I said, eating black-eyed peas on New Year's day just is. It is what you do.
Many Southerners prefer Hoppin' John on New Year's Day, which is a black-eyed pea and rice dish, but I really just prefer the peas alone. You can of course, serve these over some cooked rice. Cooking like this is more about instructions than a true recipe, so I'll lay out mine here.
---