Grilled stuffed endives with vermicelli noodles
(Read article summary)
When cooked, endives have a nutty and almost sweet flavor.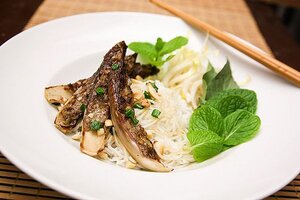 Ravenous Couple
Happy New Years everyone! We hope you've all had a festive holiday – we sure did, hopping from one party to the next with seemingly nonstop eating. So we've been eager to get back into the kitchen and get cooking again. Developing recipes and trying new ingredients two favorite things we love about cooking. We love to pretend we are iron chefs, bouncing ideas off each other to planning a dish. So when Casey of Kitchen Play contacted us to develop a recipe with a yet to be determined secret ingredient, we were all in. Kitchen Play hosts a monthly contest around a unique virtual Progressive Party where six food bloggers are each assigned one of the following courses: cocktail, amuse bouche, salad, appetizer/soup, entrée and dessert to create using a specified product.

This month all six bloggers, including us were challenged to incorporate California endives into six different courses and our assignment was entree. At first we thought it would be a daunting task as the only times we've ever eaten endives were as appetizers or salads. We were also asked to make it Asian inspired. Another tough request as we couldn't recall any Asian recipes that called for endives.
This was a great challenge as we learned so much about endives. First, we found out we were pronouncing endives all wrong. There are in fact two types, the CURLY ENDIVE pronounced EN-DIVE such as escarole and frisee and the smooth and elongated BELGIAN ENDIVE pronounced ON-DEEV. Regardless, they are both in the same chicory family and are loaded with valuable vitamins and minerals and have great flavor profiles in both raw and cooked forms. When raw, endives have a crisp and slightly bitter taste but when cooked, have a nutty and almost sweet flavor.

So our main entree we came up with is a grilled stuffed endives with vermicelli noodles, similar to the bun dishes found in Vietnamese restaurants.

---