Osso buco (veal shanks) with gremolata
(Read article summary)
There are many versions of the classic Northern Italian favorite, osso buco. This one uses slow oven braising to make the meat flavorful, fork tender, and moist.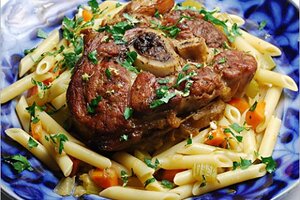 Blue Kitchen
There's something about using kitchen twine that makes me feel like a chef and connects me to the past. Trussing up pork tenderloins or rolled roasts with string says you're getting serious in the kitchen, in a comfortingly old school way. It was something Julia did.
So tying up a pair of meaty veal shanks for osso buco had me feeling cheflike. Preparing this classic Italian dish also put me in the mood for opera. I popped a mix CD of arias into the kitchen boombox (never mind that many of them were sung in French or German). Cold winds blowing outside and music playing inside made prepping in the warm kitchen especially rewarding.
We've been doing a lot of slow oven braising this winter and really enjoying it. It's perfect for turning tough, but flavorful cuts of meat into amazing, fork tender meals. Osso buco (AH-so BOO-co) particularly benefits from this cooking method. The Milanese favorite is made with cross-cut veal shanks from the hardworking upper portion of the leg. If not cooked for a long time, the meat can be chewy and stringy. Many recipes call for stovetop cooking rather than oven braising, but I find this can tend to dry out the meat, even if you turn it every 15 minutes as some recipes suggest. Braising in the oven surrounds the cooking vessel with a much lower heat for even, moist cooking.
Browning the osso buco prior to braising it gave me another chef moment. I needed to turn the veal shanks as they browned, and the high-walled Staub La Cocotte didn't give me a lot of room to maneuver with a spatula or other tool. So summoning my inner Anthony Bourdain (or April Bloomfield), I reached into the pot with my bare hands, grabbed the shanks one at a time and flipped them. I know I'm not really a chef (or even a line cook) until I burn myself with a move like this, but it still felt pretty cool.
---