Tilapia grilled cheese sandwich
(Read article summary)
The sweet flavor of Port Salut cheese won't overpower mild tilapia.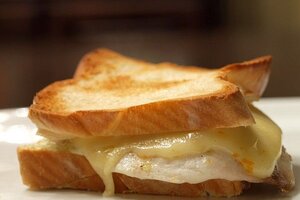 Grilled Shane
Recently, I ate a fresh mozzarella, basil and tomato panini that I thought was amazing. I wanted to recreate that classic sandwich when I received an email from Whole Foods: Fresh tilapia was going to be 50% off per pound, last Friday only. I then thought, "Hey, I have done a salmon grilled cheese sandwich, why not make a tilapia grilled cheese?" My mind was off and running thinking about what cheese, bread and accompanying ingredients would fit perfectly with the fresh tilapia.
Tilapia grilled cheese sandwich
Fresh tilapia
Avocado aioli
SAFR Port Salut cheese
Challah bread
The cheese: SAFR Port Salut
When searching through the cheese department, I had one word in mind: Mild. Tilapia is a mild, flaky white fish so I wanted to make sure the cheese did not completely overpower the fish. I quickly avoided cheddar, feta, and goat cheeses simply because I thought they might have too bold of a flavor. That is when I stumbled a sign that said mild. It was referencing Port Salut. It looked creamy, buttery and yummy. When I arrived home, it tasted exactly how I thought it would. Very yummy.
From CheeseOfTheMonthClub.com:
"SAFR Port Salut is smooth, delectable cheese made in the province of Brittany on the west coast of France. A region very similar to Maine, the countryside of Brittany is bordered by the ocean, boats and fish, and is steeped in coastal weather extremes. It has been said that Brittany is more influenced by England than its own motherland. It also happens to be great dairy territory – it's responsible for 20% of France's entire cattle raising, produces 20% of its milk and 33% of its butter....
---