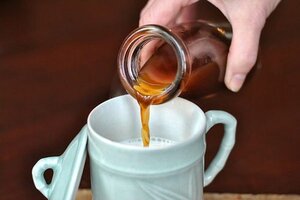 Three Many Cooks
With temperatures in the single digits and the seemingly endless snow, I'm loving hot drinks these days. While I enjoy coffee and tea daily, occasionally I like to indulge in something fun, like a Chai Latte. But Sharon and I both agree that the chai concentrate you get at chain coffee shops and at the store are often too sweet for our taste. I'm more interested in the warm, spicy flavors anyway.
I recently posted this recipe for Spiced Chai Concentrate on Tasty Kitchen and everyone loved it, so I wanted to share it with you all (just in case you missed it over there). Like me, they didn't realize how easy it was! You probably already have a lot of the ingredients and it's done in less than 30 minutes.
Just to address some of the questions people had in the comments section on Tasty Kitchen. You can store it in an airtight container in the fridge for up to a week, probably even longer. You can add the chai concentrate to milk, soy and almond milk and I bet it would be great added to plain yogurt or vanilla ice cream. One person even suggested making ice cubes out of it…YUM! And yes, I've been to India. I actually spent several months there – so I know this is not "real" chai, but I love it anyway!
Spiced chai concentrate
For step-by-step photos of this recipe, head over to Tasty Kitchen and check out my guest post. Here is the basic recipe which was submitted by Tasty Kitchen member, thecatnipcat. We doubled the cinnamon and halved the sugar, but you can increase or reduce the quantities of any ingredients depending on your taste.
---