Hot cereal with blueberries and granola
(Read article summary)
A simple breakfast to inspire happiness on a cold winter morning.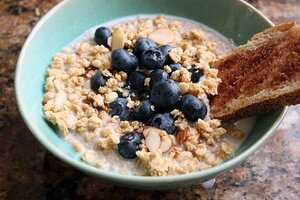 Whipped
Hot cereal has been a standby breakfast in our house this winter. Often on the weekends, I dress up the usual with a little something special. This morning's selection was extraordinarily pleasing. The scent of vanilla, the burst of fresh berries, the crunch of granola and a side of cinnamon toast were all anchored by a mound of creamy, warm, seven-grain cereal.
Sometimes a good breakfast really can take your day and shove it off in the right direction. That is exactly what the aromas, textures, flavors and warmth from this meal did for me today. Mr. Whipped and Mini Whipped seemed equally enchanted. He bundled up and headed out to shovel the new fallen snow while the little one remained snug in her pink-striped footie jammies quietly playing with puzzles on the living room rug.
With the bright, white snow outside and Sunday morning sun streaming in our living room window, I took a half hour to escape into the travel section of the weekend Wall Street Journal. Over 8 months pregnant, with a toddler playing at my feet, this dreamy perusal of far off places can be tortuous. The cover photos promised a colorful weekend in Austin, Texas, a city they describe as "one, long Sunday afternoon." *sigh* Honky-tonk dance halls, pork belly sliders, walls of colorful cowboy boots and moseying… lots and lots of moseying.
The truth is, I know my reality is its own dream in so many ways. A healthy family, wonderful friends, loving parents and jobs to support ourselves. Though I will keep dreaming of escapades to far off places, I am also still finding great satisfaction in a warm bowl of hot cereal.
Hot cereal with blueberries and granola
You can use your favorite hot cereal, just adjust cooking liquid according to package directions.
---
Follow Stories Like This
Get the Monitor stories you care about delivered to your inbox.