White bean escarole soup with turkey meatballs
(Read article summary)
White bean escarole soup with turkey meatballs is a healthy, hearty, flavorful meal – perfect for a cold winter's evening.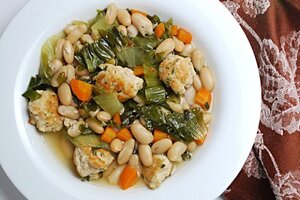 Blue Kitchen
In January 2009, Chicago editor and writer Martha Bayne was working a shift at the Hideout, a comfortably divey music venue in an industrial corner of the city. Her midweek shifts meant small crowds and smaller tips, so the bored and broke Ms. Bayne came up with an idea to liven things up and do some good.
What she, fellow staffers and regulars cooked up was Soup and Bread. It's a weekly free dinner of homemade soups cooked by the aforementioned staff and regulars as well as local musicians, writers, artists and professional cooks. Other treats include fresh bread and the occasional muffins, pie or cookies. While the dinners are nominally free, a donation is suggested. In the two years Soup and Bread has been going, it has raised more than $10,000 for neighborhood food pantries and soup kitchens. The Wednesday events run from January to mid-April. They start at 5:30pm and go until the soup runs out, usually before 7:00pm. You'll find details, including the chefs of the week, at the Hideout website.
One way Soup and Bread has raised money has been through sales of a cookbook. I got a copy from my bride over the holidays. Sadly, they've now sold out. White beans are well represented in it, featured in at least three soup recipes, two with escarole. Those recipes formed the inspiration for my soup. As did snooping around on the Intertubes and doing a mash-up of what I found, along with stirring in my own ideas.
Escarole is a member of the endive family, slightly less bitter in taste than most endive varieties. It's often used as a salad green to give a grown-up kick to the overall flavor and, in fact, looks like a head of broad, leafy lettuce. Cooking escarole softens that bitter bite, making it just a nice, subtle flavor note. It's also really good for you, high in fiber, iron, potassium and vitamins A, C and K.
---