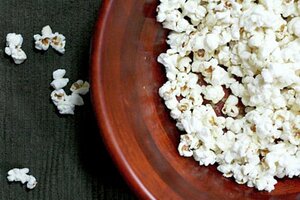 Novel Eats
Life has been extraordinarily busy for me lately and I feel like I have little time to focus on food. It's sad, really, because I have been getting such interesting produce in my CSA box. I just don't have the time to cook the eggplant or celery root, and as a food blogger that is a hard thing to swallow. The reason, of course, is I get things I don't normally cook with and all I want to do is make something and share it with you! I'm thanking my lucky stars that this madness is only temporary and eventually I'll be able to get back to cooking (and posting) more regularly.
The other night I grabbed my camera, and decided that a good post to share with you would be on how to make popcorn on the stove. I've only made it this way three times, and I am completely sold. For years, even growing up, I have made popcorn in a popcorn popper, and while that's great, I've discovered that popcorn done on the stove lends a more nuanced flavor. The way that this popcorn is done means that you don't need to add extra butter or salt once popped – just sprinkle on a few of your favorite seasonings and you've got a tasty and well balanced bowl of popcorn.
(See next page for recipe)
---
Follow Stories Like This
Get the Monitor stories you care about delivered to your inbox.