For Valentine's Day, a pair of birds you'll love
(Read article summary)
Cornish hens roasted on a bed of leeks, olives, and Meyer lemons are an impressive, elegant dinner sure to win hearts on Valentine's Day.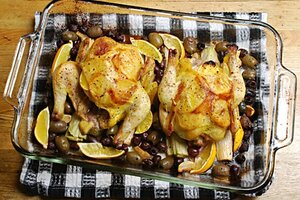 Blue Kitchen
Marion cooked for me on our first date. I cooked for her on our second date (which was the next night – was I moving too fast?). We only learned much later that cooking for someone this early in a relationship (is it even a relationship on the second date?) can be pitted with minefields. Somehow we survived. Thousands of home cooked meals later, when we want a romantic dinner, home cooking often wins out over restaurants. For this Valentine's Day dinner, I'm turning the kitchen over to Marion.
When you are thinking about a romantic dinner, presentation is as important as taste. You want to create something that is delicious, but that also honors the beauty of the occasion. And it helps to have something that is easy to assemble, and that you can put together beforehand – no sense fussing around in the kitchen when you could be enjoying time with your guest.
That's the great thing about Cornish hens. There is something elegant about having an entire little bird on your plate. And when the recipe is this one, with the hens prepped way in advance and then slipped into the oven to roast to a golden brown, and your home slowly filling with a wonderful aroma, and the thin lemon slices barely visible through the translucent skin, well, the effect can be more than a little decadent.
The inspiration for this dish was sweet, fragrant Meyer lemons, which seem to be everywhere this winter. They are suddenly so ubiquitous that this weekend we found them at a neighborhood grocery store, six in a bag for $2.50, a record low for the Midwest. They are so beautiful, with their thin skins and their lovely scent, that I don't know how anyone can resist them.
This recipe is easy to assemble – a lot of the work may be done early in the day. You can prepare the bed of vegetables and the hens hours beforehand, then hold them over in the refrigerator until an hour before you intend to start roasting them. After you slide them into the oven, serve a simple starter, just some cheese or toasted hazelnuts. Start this dinner with a green salad, if you like, and serve the hens with a little rice on the side.
If you don't like olives, you'll still like this dish. You don't have to eat the olives, in fact, to enjoy their presence. They meld with the garlic and lemon to impart a beautiful flavor to the hens, without punching you with total olive flavor.
(See next page for recipe)
---