Roast chicken with artichoke-lemon pan sauce
(Read article summary)
A roast chicken will fill your kitchen with warmth as the winter winds howl.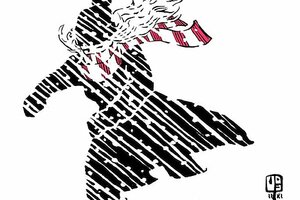 Three Many Cooks
With all the snow we've been having, I am beginning to feel like I live in the Land of Narnia – always winter, but never Christmas. Why is it that snow after December 25th is no longer a holiday miracle or a winter wonderland, but an icy, slushy, dirty, dangerous mess?
After five snow squalls and two major ice storms, the city of New Haven is heavy-burdened with frigid precipitation. The roads are impassable, the sidewalks have disappeared under inches of snow pack, and the streets are dotted with emergency "No Parking!" signs. In my humble little corner of town, I have experienced some super-embarrassing wipeouts on slippery paths, we've had the car towed for "plowing" that never happened, and I haven't worn anything cute in weeks (since nothing quite goes with my enormous snow boots). Even snow days have lost their excitement and sparkle, since each day off school is one less day of vacation when the weather is actually nice! I'm tired of being cold, of waking up sore from shoveling, of being alarmed by the fear-mongers at weather.com. Most of all, I am tired of not being able to go to the farmer's market.
And, of course, there is more snow in the forecast.
I realized yesterday that I am doubly buried: both by snow and the chilly grey negativity that has settled over me. But the pessimism must stop. I have simply decided to be sunny and warm, even if the sky isn't.
Last night, determined to put the wonderland back in winter, I went out and enjoyed the way the crisp layer of ice atop the snow crunches satisfyingly when you walk on it and I admired how the streetlights illuminate the glassy, crystalline ice-shrouded tree branches. And I tried NOT to think about them falling, taking down power lines, or crushing cars. That seemed to work.
---