Coca-Cola recipe: Coke responds
(Read article summary)
Coca-Cola recipe: After an episode of 'This American Life' aired what they claimed is the original Coca-Cola recipe, the beverage giant responded with claims that the formula for the real thing is still a secret.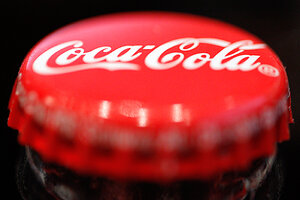 Christian Hartmann/Reuters
In response to an alleged original Coca-Cola recipe that went viral yesterday, after an episode called "Original "Recipe" aired it on "This American Life" last weekend, The Coca-Cola Company asserts that the formula published in a 1979 column in the Atlanta-Journal Constitution is not "the real thing."
Coca-Cola Company spokeswoman Kerry Tressler debunked the global furor over cracking the company's well-protected secret in a follow-up article the Atlanta-Journal Constitution:
"'This American Life,' along with many other third parties, have tried over time to crack our secret formula," Tressler said. "At the end of the day, there is only one 'real thing.' "
This stance, of course, is consistent with Coca-Cola Company's most powerful marketing message: We have the secret and you never will. As historian Mark Pendergrast pointed out on "This American Life," should Coca-Cola actually feel their secret was threatened they would have to produce the formula in a court of law. And this will never happen.
One thing is sure: The world is suddenly once again fixated on Coke. The original formula may have been a "cure-all" for digestive ills but the real secret formula is the company's adaptability to bottle whatever it is the American (and now global) public is yearning for.
---