Egyptian national dish: ful medames
(Read article summary)
The Egyptian revolution calls for a plate of ful medames, or Egyptian brown fava beans, Egypt's national dish.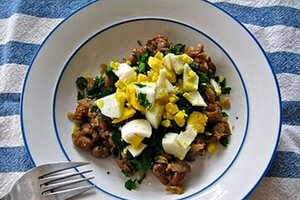 Cooked Books
While it may seem rather small to acknowledge the historically momentous events in Cairo last week with a plate of food, I can think of few better ways to to mark the occasion and celebration of the Egyptians than with a dish of ful, or dried fava beans.

In her book "A Book of Middle Eastern Food," Cairo-born chef and cookbook author Claudia Roden calls ful medames "'the' national dish of Egypt" and is a meal that is "pre-Ottoman and pre-Islamic, claimed by the Copts [Egyptian Christians], and probably as old as the Pharaohs." Roden's recipe calls for dried ful, soaked and then cooked with crushed garlic, served with lemon, olive oil, and hard-boiled eggs.

In her later edition, the "New Book of Middle Eastern Food," she acknowledges canned ful as something accepted by expatriates who improve on its shortcomings with spices and flavorings. While neither Egyptian, nor an expat, I've used the canned ful to great success in this recipe recited to me by a friend and following much of the same guidelines as Roden's. And while perhaps not traditional, I enjoy my ful medames with plain yogurt or labne.

Ful medames (Egyptian brown fava beans)
---
Follow Stories Like This
Get the Monitor stories you care about delivered to your inbox.