Butternut squash and mushroom turnovers
(Read article summary)
Butternut squash packaged perfectly in the pillowy pastry of a turnover.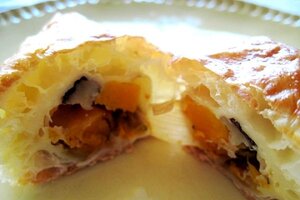 nestMeg
Every once in a while, I experience a pang of homesickness for London. After all, nine months have passed since I cried my way from Notting Hill to somewhere over the mid-Atlantic and grinned my way from that point homeward. I'm totally allowed to wax nostalgic if I so choose.
In the midst of that dreary, gray weather, the sardine-packed Tube, and the labyrinth of stairs and hallways that defined my university, I found myself. My friend Maria said it more succinctly than I ever could:
When I first met you, I had the sensation that you were kind of a baby … in the sense that there was so much potential waiting to come to life. I only "knew" you for four months but during that time, I felt that you grew up a lot and, like with me, London is still crawling its ways into your soul and heart and brain and self and it's still helping you grow up to this day. And I mean growing up as a full individual, not growing up to become the 'grown-up' with a job and a house and a husband. You can grow up to that, but grow up to yourself first.
Isn't that a lovely sentiment? In many ways, London brought me to this blog, to this moment, because while I was there I used food to bring me home. Now that's some kind of wonderful symbiosis.
And now I'm bringing myself back to London through the delightful medium of pastry dough.
---