Green papaya salad with crispy anchovies
(Read article summary)
Fresh herbs, crispy shreds of papaya, crunchy pickled vegetables, and spicy nuoc mam cham encompasses all the flavors of Vietnamese cuisine.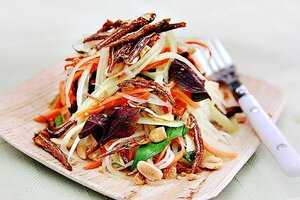 Ravenous Couple
Traditional Vietnamese goi du du is a simple combination of shredded green papaya, coarsely chopped basil, and strips of sweet and spicy kho bo (beef jerky) doused with a spicy soy based sauce. While this is enjoyable it doesn't have the complex flavors compared with other Vietnamese salads which are filled with a multitude of fresh herbs and pickled vegetables, a wonderful medley of textures and flavors topped off by crushed peanuts and a spicy nuoc mam cham sauce. In this version of papaya salad, we use similar ingredients as our previous salads goi hoa sen and goi tom with one special exception: crispy anchovies.
Like croutons, many Vietnamese goi have a crispy crunch to them, often from crushed peanuts or crispy fried shallots. Crispy anchovies however provide a totally new level of crunch and flavor. It's an umami packed punch. This idea came from watching Luke Nguyen's Vietnam on the Cooking Channel where he used crispy anchovies on a mango dish. If you like cooking shows, you must watch – it's one of the best cooking shows we've seen.
---