Travel: New Zealand and pavlova cake
(Read article summary)
Pavlova is a meringue topped by fruit invented by a chef who named it after Russian ballerina Anna Pavlova when she toured New Zealand.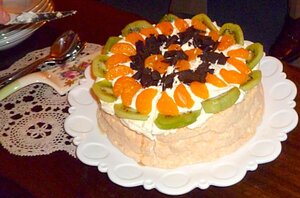 The Pastry Chef's Baking
Carol Ramos recently returned from a travel tour to Australia and New Zealand, just missing the earthquake that devastated Christchurch.
As part of our tour itinerary, we got an opportunity to dine with a local Kiwi family who live near Christchurch. There's a program that the locals sign up for and they host 4-6 tourists about once a month for dinner. The tour guidelines say they must serve New Zealand lamb and pavlova but I guess the rest of the menu is up to them.

I went with my fellow travelers, Eileen, Richard, and Nancy, to dinner at the home of Ted and Gay. Ted picked us up from the hotel to drive us to their house. He and Gay live about 30 minutes away from Christchurch on 5 acres of land, planted with olive trees which Ted mostly tends himself. He drove us around their orchard to give us a tour before we went to their house.
It was a truly enjoyable evening. They couldn't have made us feel more welcome and were both very gracious and entertaining. I can't help but think of the word "gentility" as a way to describe them. They used to be teachers, are retired now and have done any number of things since retirement such as own and operate a motel and move to their current home tending to their olive orchard. Gay served us a delicious dinner. I confess that I don't usually eat lamb as my prior few experiences have led me to believe lamb is greasy and/or stringy. Not so – at least, not when it's cooked to perfection which this was. I think Gay roasted it but I didn't think to ask. She started the dinner with a first course of tomato soup - another surprise for me as I ended up really liking the soup. Normally I'm not big on tomato anything unless it's making up the sauce on a pizza but this was quite delicious. Perhaps the difference is the tomatoes were fresh from their garden.
---