Street food and Haitian hot wings
(Read article summary)
In Port-au-Prince the streets bustle with sights, sounds, and the smells of cooking street food.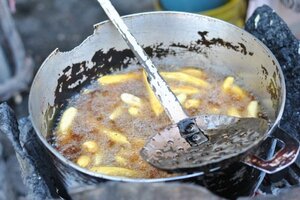 Three Many Cooks
I'm in Haiti this week, mainly for work. But if I'm traveling for business, I always make time for a bit of pleasure. As I prepared for my trip, however, I wondered how much pleasure I could find in a place that has experienced disaster after disaster for over a year. A lot, I found.
Port-au-Prince is still very much a city of tents and rubble. While there are signs of reconstruction everywhere, around every corner is a home or a shop that looks like it came crashing down just a moment before. On every free wall there are competing campaign posters for this highly-charged, contested election and graffiti everywhere alluding to the "Kolera" which first plagued St. Marc and has now crept into the capital city. But despite the last year of horrors, Port-au-Prince is vibrant and lively, the people warm and friendly. When I was stranded at the airport without a phone or money, I had at least a dozen offers to use people's phones. Without asking, a young man went and bought me a bottle of water.
As in any bustling city, the senses are overwhelmed with sights, sounds and smells. Life is abundant here. The markets are heaving, the roads are crawling. Motorcycles carrying four (and sometimes five) passengers and dangerously overflowing trucks have endless near-misses. Traffic laws don't exist here; the only constant is the sound of horns. I must also say that the people in Haiti are (in the words of Derek Zoolander), "really, really, ridiculously good-looking." The children are unquestionably the most beautiful I have ever seen.
---