Braised endives
(Read article summary)
Braising endives reduces its bitter edge and draws out more subtle flavors.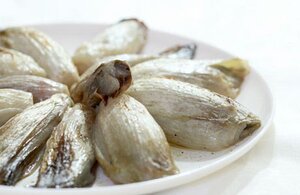 Novel Eats
You wouldn't believe how much I've missed cooking, I mean really cooking over the last few weeks. I've made a few things here and there, but my community supported agriculture (CSA) veggies and groceries have been aging and wilting ever since I have been putting in so many extra hours at work. A couple of weeks ago, the people over at California Vegetable Specialties sent me a complimentary bouquet of endive (pronounce it on-deev and you'll feel French for about a minute), plus a few extra, and I was crossing my fingers that they would last until I could use them the soonest. It really bothers me when I get such amazing produce and it winds up going to waste because of little time or energy available to me.
I was so excited this weekend, when I finally was in the kitchen, to discover that every single head of endive was usable. A miracle. Or a miracle of packaging. I have never seen endive with its root still attached, but the root is about the same length or longer than the endive plant. The bouquet I received all had the root still attached to each, and I imagine that this is what helped to keep them intact.
Endive, as a general rule is very bitter raw. I had it raw a few years ago and didn't like it, but I read recently that the French frequently cook it, thus reducing the bitterness and bringing out some of the more subtle flavors. As soon as I found out that I would be getting some endive in the mail, I knew I'd be braising it.
There are many different recipes out there for braised endive, but I decided to go with a vegan adaptation of an adaptation of Julia Child's braised endive. Prep time is fast, but it spends some quality time in the oven. You can make this ahead of time and reheat, or just be sure to give yourself plenty of time to make this before serving – about 2-1/2 to 3 hours.
---