Fat Tuesday 2011: Pork, pork, and more pork.
(Read article summary)
Fat Tuesday is the perfect excuse to go whole hog.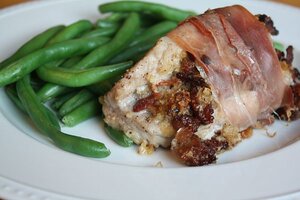 The Gourmand Mom
Happy Fat Tuesday! Put those Lenten resolutions of abstinence and chocolate deprivation on hold for one more day. Tomorrow, we fast. Today, we feast!
Recently, during a particularly lucid early-morning shower brainstorm, I developed a recipe which is either my most genius creation or proof that I've completely gone insane; pork stuffed with pork and pork, wrapped in pork. I'm calling it The Whole Hog. We'll start with boneless pork chops, then stuff them with a sweet and savory filling made from bacon and sausage, and wrap them in prosciutto for the final touch. This is a dish to send the three little pigs running for the hills.
In honor of Fat Tuesday, I proudly present you with The Whole Hog: Pork with Pork, Pork, and Pork.
Genius or insane? You decide.
The Whole Hog
Bacon, Sausage, and Apple stuffed Pork Chops wrapped in Prosciutto
Serves 2
2 boneless pork chops, trimmed of fat
1 tablespoon butter
4-5 slices applewood-smoked bacon, chopped*
4-5 breakfast sausages, removed from casings**
1 granny smith apple, diced
1/2 cup panko crumbs
4 slices prosciutto
Salt and pepper
* Regular bacon can be substituted
**Use an apple flavored sausage, if available
Directions
Preheat oven to 375 degrees F.
---