Mardi Gras 2011: Louisiana shrimp creole
(Read article summary)
Mardi Gras is the perfect occasion for shrimp creole, a traditional Louisiana dish.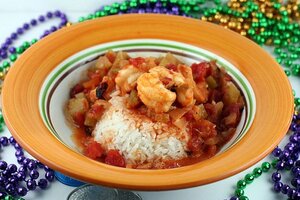 The Runaway Spoon
I am surrounded by good Louisiana cooks. My brother went to college in New Orleans, my close friend went to law school there, and many of their friends from the area have migrated up to Memphis. And they love to cook up a good bayou feast. So in all honesty, I don't cook much Cajun or Creole food – I leave it to the experts.
My brother makes a mean gumbo, so I pretty much let him be in charge of that process. For my birthday last year, I was surprised with a homemade dinner party of grilled boudin, crawfish ettouffe and Doberge cake. I frequently get a call that one or other of the Louisiana natives has been back home and brought back a cooler of crawfish or gulf shrimp or other local seafood, so they are whipping up a party. When my brother visits Louisiana, he comes back with Natchitoches meat pies and crawfish pies. All of this is to say, I get plenty of good Nawlins' food – from other folks.
But I felt I ought to have a least one good Creole recipe in my back pocket. And the quickie Monday red beans and rice I make for my self only just doesn't count. So asked one of my friends, who is a native of Monroe, Louisiana, for a good recipe. And just like a man, he gave me a set of instructions, as if I wanted to build a set of bookshelves, more than a recipe. But God love him, he had the right idea, and a solid foundation. With a little work, I transformed his manual into a recipe that has become a favorite of mine when I need a little Louisiana fix. This Shrimp Creole has all the classic flavors of the bayou without having to master the art of making a good roux.
---