Mediterranean diet: Greek salad
(Read article summary)
Mediterranean diets are full of with the healthy and robust flavors found in a Greek salad.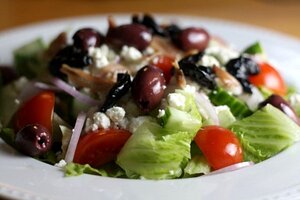 The Gourmand Mom
Is it wrong to be in love with a knife? Will people laugh at our love? Will I be labeled some sort of weirdo cutleryophile? Call me what you may … I am madly in love with a knife. It was true love at first sight. I initially spotted my new darling in the window at a Chicago Williams-Sonoma. I was drawn to that knife in the way which other women are drawn to the glittery diamonds on display in a jewelry store window. My heart went pitter-patter. The noticeable blush in my cheeks sent a surge of jealously through my husband.
The object of my affection was a knife in Shun's newest Edo line of knives, sold exclusively at Williams-Sonoma. Gorgeous hammered steel detailing, samurai sword sharpness, perfectly balanced weight; not only a precision cutting tool, but a beautiful work of art. The 8″ Dual-Density Utility knife, with its high and low frequency serrations, whispered sweet nothings at me through the window. I was so easily wooed; so fully enamored. Were it not for its mind-numbing price tag and the knowledge that airport security would never have allowed me to gingerly carry my new love on board, I would have purchased that knife on the spot. Alas, I left empty-handed with a razor-sharp hole in my heart and the salty remnant of a single tear run down my cheek.
Then, in January, we paid a visit to my parents to celebrate a belated Christmas. And Santa had left a very special gift for me at my parents' house; the knife of my culinary dreams. Though I've been a loyal fan of the very excellent Henckels and Wüsthof knives for many years now, I have to admit that this knife puts my other knives to shame. My other knives quivered in the knife block when they saw this one coming. I can still hear them crying their nervous tears that they may never be used again.
---