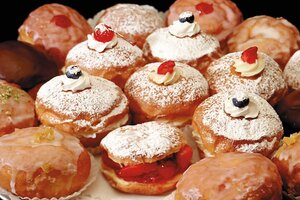 Bob Fila/Newscom
"Paczki" is a good word remember for a your next Scrabble tournament. In case you had forgotten, today is Mardi Gras (Fat Tuesday, Shrove Tuesday) the day before Lent and a season of restraint at the dining table. This means all over the world in Catholic influenced nations people are going absolutely bonkers waving plastic beads and consuming as much sugar and pork and shrimp creole as possible before piety settles in for a season.
Pancakes and doughnuts are filling plates everywhere in honor of a tradition that demanded that pantries be emptied of all the lard, flour, eggs, sugar, and fruit that were declared off-limits during Lent's fasting practices. The tradition even has Prince William and Kate Middleton flipping pancakes in Belfast to honor Shrove Tuesday.
---
Follow Stories Like This
Get the Monitor stories you care about delivered to your inbox.