Blood orange cornmeal cake
(Read article summary)
A light cake with a mild taste of cornmeal brightened by citrus flavors.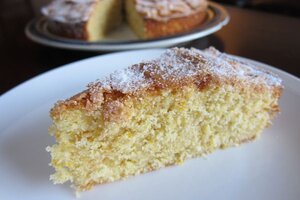 The Rowdy Chowgirl
On Sunday afternoon I stirred up a blood orange cornmeal cake. As I prepared to slip it into the oven, I said to Michael, "Now, while the cake is in the oven, we have to be really quiet and avoid stomping around in here. And do you think that making grilled cheese on the stove will disturb my cake too much while it bakes?"
He looked at me as if I had three heads, but was much too polite to come right out and say so.
I don't bake a lot of cakes.
So I had to stop and think for a minute about why I was worried: Because I thought the cake might "fall," which I don't think I've actually ever seen, but nonetheless I have a dire mental picture of a cake that looks like someone has stepped on it.
Why was I worried about fallen cake? Because my mother always told us, decades ago, as she slipped a cake into the oven, to be really quiet and avoid stomping around in the kitchen or the cake might fall.
And why did she tell us that? Because we were little girls who were excited about eating cake in a little while, and apt to start playing tag in the kitchen while we waited, or possibly invent a game that involved jumping off kitchen chairs while shrieking like banshees.
Once I'd asked a few why questions, I realized that my cake probably wasn't in mortal jeopardy after all. I made the grilled cheese sandwiches, and we retired to the living room to eat them without initiating any jumping or shrieking games in the kitchen, and everything turned out just fine.
And I couldn't help noticing that the cake was a fairly obvious metaphor for so many situations in life, wherein my automatic assumptions dissolve when I take the trouble to shine a light on them.
Apparently, every time I make a cake, it must have olive oil and orange juice in it. But it's hard to go wrong with those parameters. The blood orange cornmeal cake was a success. It only took a couple of minutes to stir up, and the smell alone was worth the trouble. The texture was fine and relatively light, and it had a hint of the hearty, mildly sweet taste of cornbread, brightened and intensified by the orange juice and zest. The cake itself was not overly sweet, which made the sugar topping a pleasant addition.
---