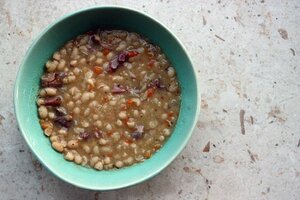 Whipped
This soup is all about the smoked ham hocks. They aren't pretty to look at, all gnarly and tawny. But, one whiff of them gives you a sense of what is to come after slow cooking their essence into a pot full of beans.
Like with most soup making in my kitchen, I start by looking over a number of recipes online and in my cookbooks. I usually don't write things down, I just let the ideas swirl and then step into the kitchen and go for it. Soup making is the opposite of baking. You can try a little of this, a little of that and never touch a measuring device. Letting my taste buds lead the way, things often turn out just right.
Before Baby Whipped was born, I made a large pot of this soup and froze a number of portions. I had forgotten that the doctor advised no beans for the first 6 weeks as they are notorious for causing gas in the baby. I hadn't remembered that happening with Mini Whipped but since major sleep deprivation and toddler energy are guaranteed in the next six weeks, I have decided to not take the chance of adding baby gas to the mix. So, I thawed the soup and fed it to my mom and husband.
My mom is a good cook and loves soup so I was pleased when she gave this recipe two thumbs up. Mr. Whipped also gave it his blessing. So, here is my first Navy Bean Soup, permanently added to the Whipped family repertoire. Play around with it and follow your taste buds … if you have ham hocks and navy beans as a base, it is nearly impossible to screw up!
Navy Bean Soup
1 pound navy beans, picked over, rinsed and drained
1 tablespoon butter
1 medium onion, coarsely chopped
1 clove garlic, coarsely chopped
1 teaspoon dried rosemary
1 teaspoon dried thyme
2 bay leaves
2 large smoked ham hocks
8 cups of water
2 medium carrots, finely diced
Salt and Pepper
---